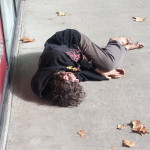 I grew up spending much time out of doors.  It was fun, boring at times, and I enjoyed spending time in nature.
Then as an adult I had the opportunity to become an Assistant Boy scout Master.  Once a month we had a camping trip – rain or shine.  Some trips were very cold, such as snow camping.  Cold was never as bad as when it rained.  Rain water has a habit of getting everything wet – especially clothes.  Then chill would set in…BRRR!
The second person, well he had taken his wet shoes off and was sleeping in the elevator at the parking lot.  Three people went to get on the elevator and ushered him out of the elevator.
I wonder, are they enjoying living in the great outdoors?  How did they get there?  What happened?  Do they have mental health issues as most of the indigent do?  Maybe they simply lost their job and their world collapsed.  Or maybe they are like a friend of mine, Phil, who had health issues, lost almost everything and then lost everything when another car hit and totaled his van.
Is it camping or a bad situation getting worse?
Maybe you believe in Karma – the drought is here until we solve this issue?
I don't have the answer, yet.  I do know this issue is eating at me.  I do believe solutions exist.  I also know that there is not a solution, this will be a body of solutions.
A hug?
Resources: